What Is a Force Sensing Resistor?
The Force Sensing Resistor (FSR) was invented by the founder of Interlink Electronics, which spearheaded the technology's adoption in a large and diverse range of industries. FSRs are piezoresistive sensors that use two sets of electrically distinct interdigitated fingers printed on a conductor substrate. A thin spacer separates the circuit from a layer of conductive ink. When a force or pressure, whether from a human touch or other source, is applied to the surface of the sensor, the conductive ink creates shunts between the two sets of fingers, completing the circuit and decreasing the device's resistance, which can be measured.
The resulting sensor is thin, flexible, and resilient. Plus, their low cost and easy integration make them a great choice for scalable projects.
Best Price Guarantee
We'll beat any competitor's price on FSR-comparable sensors. For more information, click here.
All orders include a minimum shipping and handling fee of $9.99.
Discounts are available for larger quantity orders. Contact us for more information.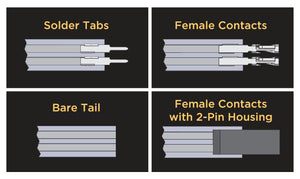 Fast and Easy Integration
Select your preferred connector type(s) when adding products to your shopping cart. Our sensors are typically available with the four following connection options:
• Solder Tabs
• Female Contacts
• Bare Tail
• Female Contacts with Housing
MARKETS & APPLICATIONS
Interlink's technologies and capabilities are multi-market and multi-application relevant. Strategic areas of deployment include...
AUTOMOTIVE
Innovative, next-generation switching and sensing solutions for cockpit and door-entry applications.
CONSUMER & COMPUTER
A rich history of providing standard and custom solutions to the consumer, mobile, and computation fields.
HOME AUTOMATION
Slimline, durable, stylish sensing solutions for lighting, white goods, security, and other emerging in-home applications.
INDUSTRIAL & MEDICAL
Durability and longevity in rugged and high dependency-applications.
Who We Are
Since pioneering the Force Sensing Resistor® (FSR) 35 years ago, Interlink Electronics has evolved into a leading provider of printed electronics, HMI devices, and sensor solutions. Today, we offer a full range of standard products as well as the ability to create custom solutions by leveraging our expertise in prototyping, materials science, firmware and software development, sensor fusion, system integration, and manufacturing. This online sensor store is one of our latest initiatives to help bring us closer to our customers and better fulfill their needs.
Read more on the Our Story page.